NEWBORN BOOKINGS
I take a limited amount of newborn bookings each month so it is recommended to Book in at 20 weeks pregnant.
Book online by selecting the week of your due date and paying your £50 deposit. This guarantees your session for within your babies first 3 weeks. The remainder of your balance is then due on the day of your session and can be paid online via card or Klarna pay available.
Newborn Collection One
£355

2 – 3 hour studio newborn session.

x5 Edited digital images to download.

x5 Luxury matt prints 6x4"

Online gallery to view, download, browse & order my luxury products & prints.
Sibling & Parent shots are included.

Newborn Collection Two
£575

2 – 3 hour studio newborn session.

ALL edited digital images to download. (Approx 25)

x5 Luxury matt prints 6x4"

Online gallery to view, download, browse & order my luxury products & prints.

Sibling & Parent shots are included.

Milestone Membership Collection

£1250

Your choice of any 3 sessions over 12 months starting at any age. Maternity, Newborn, 3 Months, 6 Months, 8 Months, 1st Birthday, Beach Family, 2nd Birthday and beyond.
ALL edited images from each session (Approx 25)

x5 Luxury matt prints 6x4" after each session.

Luxury 10x10" linen or velvet fabric bound 20 page album filled with your favourite portraits from each session.

20% discount on special mini session bookings ( Mothers day, Fathers day, Beach, Autumn, Christmas minis)

£2013 if purchased separately saving £763

To reserve your space in my limited membership fill out my contact form and I will get in touch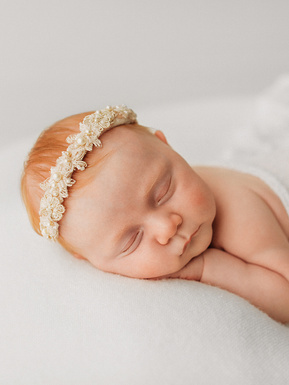 I have a beautiful collection of wraps, blankets, outfits and headbands for your newborn. You are welcome to bring a sentimental item with you, I have incorporated jewellery, knitted blankets and even mummy's wedding veil. I also have a carefully selected client wardrobe available for older siblings and mothers in various sizes. After booking you will receive my style guide & client wardrobe catalogue.

I love hearing your story, to connect and share our motherhood journeys. With older children my main focus is to make them feel welcomed, seen and valued. I always hear 'my toddler will not cooperate!' and that is welcomed! I don't aim for posed, I aim for connection. If your child leaves my studio feeling like they have had a play date and made a friend, I have achieved my dream. After your session I love seeing them grow and when you return for another session it truly feels like a good catch up with friends.

My aim is to create honest, beautiful portraits of your family. But please don't feel lost, I will guide you to the best light, angles and give you gentle prompts without you feeling too posed. All you need to do is relax and soak in that gorgeous feeling of cuddling you new baby. For siblings I give them the freedom to feel comfortable in the studio nothing is forced but as a mummy of 2 I do have some tricks up my sleeves to encourage interaction.

After your session you can download your personalised app with direct access to your online gallery. Here you can view, share, download your images and shop my range of luxury products. I have put a lot of care in selecting my suppliers to make sure your albums, prints and frames are luxurious and present your memories in the way they deserve. A full price list of products is available on request.

Booking
Book in during your third trimester, around your 20 week mark is perfect. You book in with your due date and let me know when your baby arrives, we then schedule your session date for within your babies first 3 weeks. After booking you will have a client portal account where you can view your session information, sign contracts and receive session and style guides. If you love my work and feel like I am your girl click the BOOK NOW button to reserve your due date with me. Sessions are held Monday - Thursday at my studio in Waterloo, Liverpool during the day light hours typically starting at 10am.